Welcome to our Gelbvieh Country Store...
Bringing great genetics to all the cattlemen that are excited to have more
Gelbvieh Moms
working in their pastures.
The beef industry is alive and well and we are more excited than ever about our cattle and the future opportunities of the Gelbvieh breed.
As Gelbvieh have played such a big role in our lives, we are bringing everything together and offering it to you through our Gelbvieh Country Store.
This is your invitation to look around.
At the Gelbvieh Country Store we are dedicated to showing you our purebred Gelbvieh cattle.  
We will be offering livestock equipment and items that all cattlemen can use in their everyday life of being a cowboy.
You will find many Gelbvieh cattle pictures in our Photo Gallery. These pictures that will show you the cattle in the pasture, all the way to the time we put them up for sale.
You will find Gelbvieh data and promotional items under our Promoting Gelbvieh section of the website. This area is great for the people that are brand new and are interested to learn more about the Gelbvieh breed.
You will be able to study our Gelbvieh bloodlines and data in our Sires and Dams section.
For every cattleman, we invite you to look through the Livestock Equipment section. You may find something you need.
Always watch our News Bulletin Board where you will find special things happening throughout the year.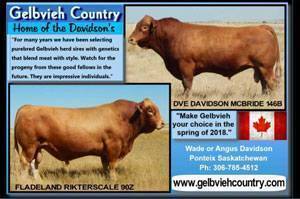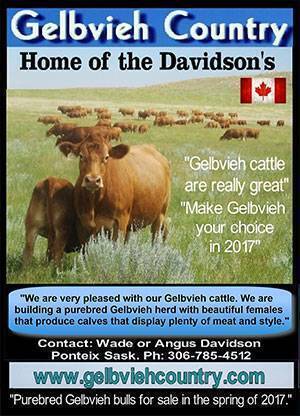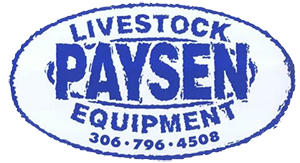 Contact Wade at

1-306-785-4512
Dealer for Paysen Livestock Equipment
and the Lewis Cattle Oiler Co.
click here for more
''The Davidson's Story"
We started using some Gelbvieh genetics, using A.I. on our commercial herd in the 1970's along with trying some other breeds of cattle. It was through this venture that we became excited about the Gelbvieh breed. The Gelbvieh cross calves grew fast, making whooping good steers and beautiful heifer calves when we gathered in the fall. As time went on we found that the Gelbvieh cross steers worked well in the feedlot and the heifers grew up to make terrific cows. Often, the first calf Gelbvieh heifers would out produce four year old cows from other breeds. To top it all off, the more Gelbvieh we got working in our herd, the quieter our herd became.
The Gelbvieh breed is now showing up, as the go to breed for crossbreeding as more and more cattleman are looking for heavier weaning weights without losing milk and maternal traits. Also feedlots are looking for cattle with good cut-ability and feed conversion. This makes "Gelbvieh" the perfect fit in today's cattle industry.
If your interested in buying bulls for your commercial herd or if you are interested in becoming a purebred Gelbvieh breeder, just give us a call and we can help you along on your new adventure.
We live in southwest Saskatchewan near a town called Ponteix. We look forward to telling you all about our operation.
Thank you from
Wade and Ruthie Davidson and Angus and Marlene Davidson